Games
Here is a list of games I made, in "no particular order".1 All of these were coded by me; in some cases friends helped with art or music.
Completed Games
Rocket Research
(music by Daniel)
An experimental game attempting to explore the schism between theory and reality. Very short, yet has its own soundtrack!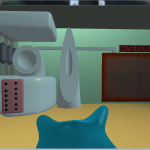 See original post for details, including download links.
---
Balloons
Arcade-style keep-afloat with balloons.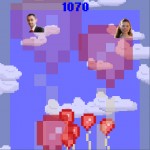 ---
Amy
(most art by Daniel)
Made for Ingrid's Character Project.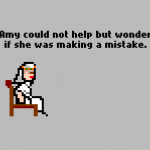 Play here (flash)
---
Hammond: A mailman's dream
(art by Daniel)
Made for Ingrid's Character Project.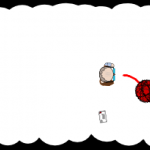 Play here (flash)
---
Competition entries
Ghost Town
Made for Ludum Dare #22 ("Alone")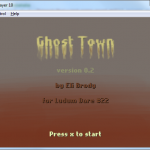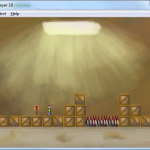 34th place Humor, 71st place Graphics (Over 700 entrants make those numbers look a little better!)
My best game since You are me now.
Play here (Flash), or watch the timelapse.
---
You are me now
Made for Ludum Dare #17 ("Islands")
This was probably the strongest game I've made to date. I'm very proud of it, and it reached 14th place "Overall" in that competition.
---
The Legend of Old Man
Made for Ludum Dare #20 ("It's dangerous to go alone! Take this.")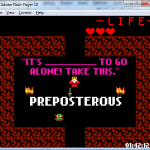 This game achieved 8th place in "Humor", and 20th in "Theme". I am pleased with it because it does nearly everything I wanted it to do, and I didn't stress myself out making it. Yes, it is ridiculous, and it has a terrible dictionary. Also, it counts on the player having played The Legend of Zelda.
---
Atop Mt. Brawlalot
Made for Ludum Dare #18 ("Enemies as weapons")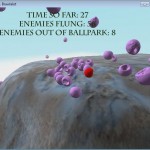 A rather silly game built in Unity. Did not make it very far in this competition.
Download from the entry page (Unity executable for Windows/OS X).
---
CHOMPRE
Made for Mini-Ludum Dare #25 ("The worst game I have ever made")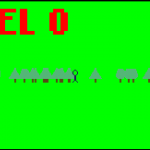 A definite candidate for "worst" game. Some of the worstness is on purpose, some is not. See if you can tell which is which! Play here (flash).
---
Lost races' abandoned artifact recovery
Made for Ludum Dare #19 ("Discovery")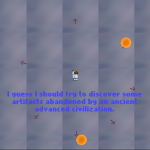 An artsy kind of game that flopped.
Play here (flash) and make sure your headphones are on.
---
Leaving Satisfactoria
Historic game – the first I ever completed.
Made for Ludum Dare #16 ("Exploration")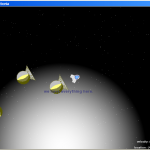 Download from original entry page (PyGame – also bundled with Windows executable).
---
Disbeliever Drop
Quick game built in Processing for the nanoLD and submitted to the GDC Pirate Kart.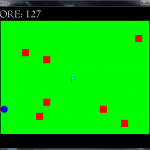 Download it or play online (Java required).
---
Incomplete/Sketches/Studies
NPC
(art by Daniel, music and sounds by Chen)
Experimental game that was kind of abandoned. Take control of a JRPG non-player character. (This predated Recettear, no really.)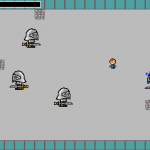 Play here (flash)
---
Distant Chimneys
Simple game with no ending used to test "atmospheric" music. I also used it to learn how to make dynamic sprite graphics using AS3 inside of Flixel. I am pleased with how the animated background looks.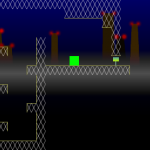 Play here (flash)
---
Simulations
The Megastrata project
(inactive)
A bite larger than can be chewed. Megastrata (originally the Noiseviewer) is a procedurally-generated, endless structure of corridors that you can explore.
Inactive since early pre-alpha stages, I may revisit it some day…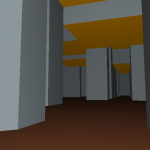 See the Megastrata page for more information and downloads.
---
1May be ordered.