The Legend of Old Man – Ludum Dare #20
This is my entry for the 20th Ludum Dare 48-hour game competition. The theme was "It's dangerous to go alone! Take this."
Screenshots: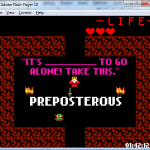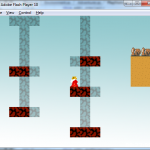 Play The Legend of Old Man after the jump.

Play using the arrow keys (you can also jump with X or the spacebar). Type when prompted, and please excuse the terrible dictionary – it's the best I could do during the short competition.
Here is the game – you might need to click on it to give it focus.
See original entry page for voting and more details.
Also available: complete source to this project.
The Legend of Old Man was built in Flixel, using the FlashDevelop IDE. Photoshop and GraphicsGale provided drawing tools, and Tiled was the map editor. I used a short Ruby script (included in source) in order to help compile the word list. FL Studio was used for the "music", and I used Audacity and Increpare's lovely bfxr for the sound effects.
Posted on May 2, 2011 at 12:54 am by
eli
·
Permalink
In:
Uncategorized
· Tagged with:
as3
,
competition
,
compo
,
flash
,
flixel
,
game
,
it's dangerous to go alone! Take this.
,
ld48
,
legend
,
legend of old man
,
ludum dare
,
words
,
zelda